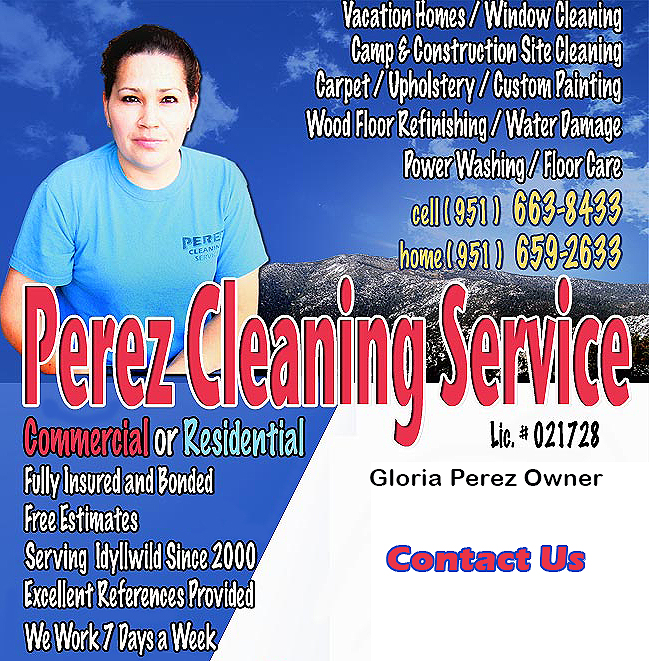 Specializing in ALL of the Following:
Dust and Remove Cobwebs on Ceilings, Tops of Doors, Wood Frames, Paneling.
Dust Furniture, Shelves, Ledges and Window Sills.
Dust Window Blinds and Vacuum Draperies as Needed.
Scrub and Disenfect all Sinks, Tubs and Showers.
Spot Clean Walls - Switch Plates and Door Knobs, etc.
Clean Linoleum or Tile Floors Inc. Corners & Edges. Clean and Condition Wood Floors.
Wipe Out Drawers and all Cupboards in the Kitchen and Bathrooms.
Clean All Light Fixtures
Sweep out Garage and Remove Cobwebs
Clean Refrigerator and Remove all Food.
Clean Stove and Under Burners, Oven Hood and Screens.
Clean Out Fireplace and or Wood Stove.
Vacuum all Carpeted Areas and Spot Clean where Necessary.
Shampoo all Carpeted Areas
Shampoo all Traffic Areas thoughout.
Clean All Windows in the House Inside/Out, Inc. Brush Screens and Vacuum Tracks.
Owner:
Gloria Perez
PO Box 827
Idyllwild, California 92549
Servicing the Following Areas:
Idyllwild, Pine Cove, Fern Valley, Garner Valley, Mountain Ctr. and Hemet.
This Site Designed and Hosted by GREEN CAFE - Internet Provider